Sicilian Home Altars
and Shrines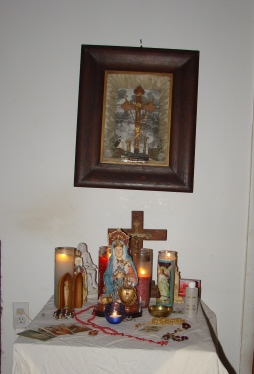 An example of a Sicilian Home Altar with a religious picture over top.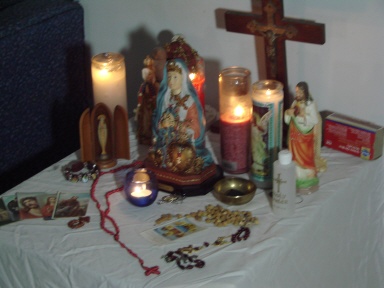 This altar has an image of La Donna de Dolorosa "Our Lady of Sorrows" or Mater Dolorosa, "the Sorrowful Mother." Mothers who are born on September 15, the feast day of La Donna de Dolorosa, are especially blessed as healers or are said to have the healing touch. There is also an image of the Sacred Heart of Jesus which represents the love of Christ. Notice box of matches tucked in back for the candles.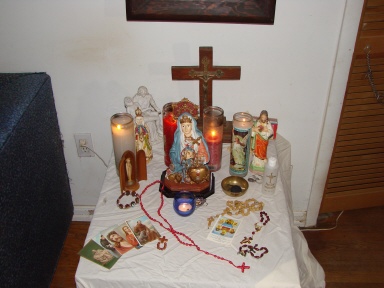 Sicilian Home Altar. Notice a Guardian Angel candle, the prayer cards, saint metals, and prayer beads, along with a and a small brass incence burner. (The burner was not lit for the photo.)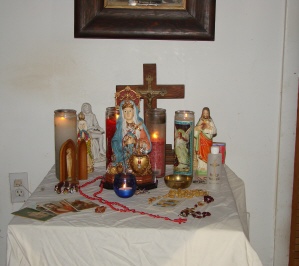 Sicilian Home Altar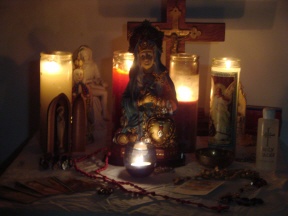 Sicilian Home Altar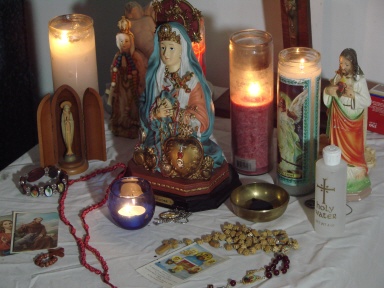 Sicilian Home Altar. Notice the bottle of holy water.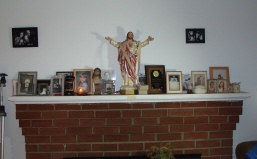 Sicilain Family Altar over the mantle with a small candle.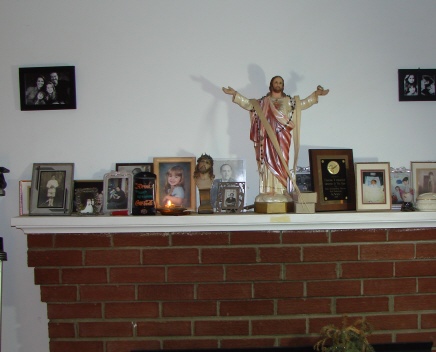 The Risen Jesus stands guard over several generations of a family. Notice the image of Jesus has a rosery and blessed palm.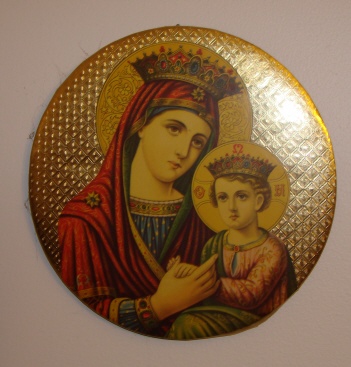 Hodegetria, Our Lady of the Way. This image is an iconographic depiction of the Madonna holding her Child Jesus at her side while pointing to Christ as the source of salvation."She who shows the Way" is the "Leader" and "Guide of the Church."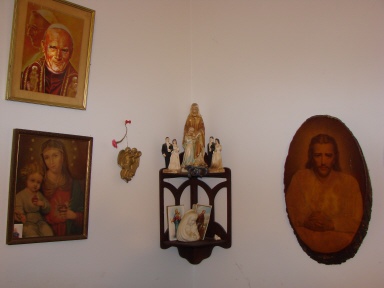 St.Anne shrine with other holy pictures of the Madonna and Child, Jesus, and a pope.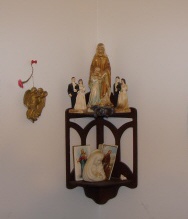 Close up on St. Anne shrine. Notice the two bride and groom cake tops with a little bird nest requesting happy marriage and happy home. Also note the Madonna below with prayer cards. To the left hangs a small golden angel.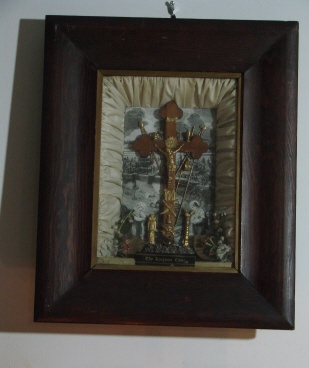 Close up of picture over top of the Sicilian Home Altar
Some Catholics set up home altars and/or shrines. These photos here are from the home of an American-Sicilian Catholic family. Photos copyright 2009 F.V.
Mater Dolorosa
Useful Prayers: Novena to Sacred Heart of Jesus Christ
Praying to Saints and Folk Magic: Sant'Anna
Sicilian Grandmother
Catholic Home Chapel