St Martha Single Decade Rosary Hospitality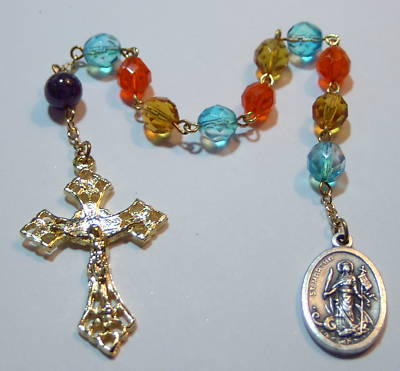 Santa Marta
Patron Saint of Cooks and Homemakers
This is a single decade rosary in bright colors dedicated to Santa Marta or St. Martha of Bethany who got dinner on the table while her sister, Mary, sat with the guests and didn't lift a finger!
Very bright colors and genuine amethyst, too! This chaplet consists of a large bright gold-toned crucifix with cut-outs on each end; it's nice and heavy-looking yet is light in weight. Measures about 1-5/8" long. After the crucifix is one Our Father bead which is an 8mm genuine amethyst - deep purple and highly polished. Next, the ten Hail Mary beads are bold and beautiful in colors of honey amber, orange and aqua blue. The blue beads are actually bi-colors - blue and clear. At the end is a nickel silver Italian medal of St Martha.
St Martha Single Decade Rosary Hospitality, ebay.