More Cimaruta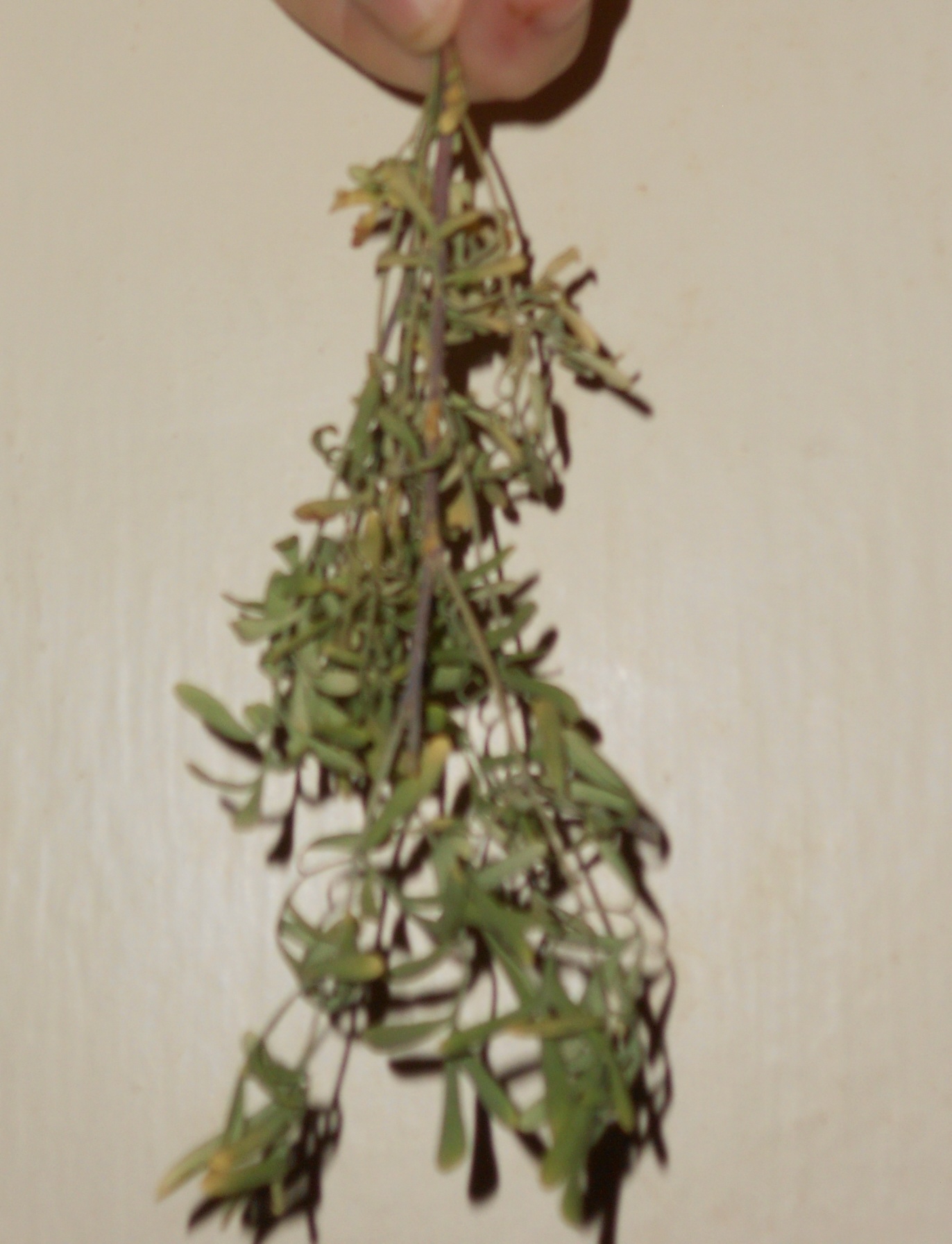 Sprig of dried rue
The plant, rue (Ruta graveolens), has olive green stems with oblong leaflets, which have a strong aromatic smell and bitter taste. Its yellow flowers bloom during the summer months. The plant is native to southern Europe.
The English name of the bitter herb comes from the Greek ruta, meaning "repentence," as in turning away from some action or event, and is also connected to the Greek reue "to set free."
In Italian this plant is known as ruta. Yes, that's ruta as in cimaruta. Cimaruta literally means, in Italian, "sprig of rue."
Sabina Magliocco in Witchcraft, Healing and Vernacular Magic in Italy wrote:
Rue (Ruta graveolens), a medicinal herb mative to the Mediterianian with emmeago and abortifacent properies, was used by folk healers to treat colic, stomach aliments, and skin eruptions. It was so benificial that it was believed to protect against witchcraft [malign magic] and the eye as well. Rue was oftened combined with lavender in brievi, small packets or bags made of fabric and worn next to the skin." (p.161)
A brievi is similar to what many American Neo-Pagan Witches, and some Wiccans, call a "charm bag." I've also heard "sachet" or "herb bag."

Aristotle mentioned rue was often used as a protective herb against hostile magic. In Italy, it was particularly esteemed as protection against malocchio or innocciatura, the evil eye and malignant magic.

Such was rue's protective properties that amulets, cimarutas are still worn in Italy to bring good fortune. These amulets are often stylized charms of rue in silver. Sabina Magliocco in another article, Spells, Saints, and Streghe: Witchcraft, Folk Magic, and Healing in Italy, wrote: "Amulets are very common in Italian folklore, and knowledge of their use is neither secret nor limited to a group of practitioners of the old religion."

Sabina Magliocco explained: "Especially in rural areas, many people practiced folk Catholicism, a syncretic mixture of some pre-Christian elements with a dose of Catholic flavoring, while remaining relatively resistant to aspects of official doctrine, either due to a lack of understanding (until 1962, Masses were held in Latin, which the majority did not understand) or to skepticism about the Church's motives."

Therefore, several Italian-American Witchcraft revivalists wear cimaruta amulets as part of their practice. Many of the symbols attached to the cimaruta have pre-Christian elements rooted in Roman antiquity. Sabina Magliocco adds, "[Raven] Grimassi interprets the wearing of amulets such as the cimaruta as emblems of belonging to the vecchia religione." Probably the logic behind this practice was that if you wear the cimaruta, you believe in the pre-Christian magic of the vecchia religione which was the "old religion."

More information:
The Cimaruta at Stregheria.com.
Raven's Loft sells Cimaruta "the Witch's Charm" Small $69.95.
Search for Cimaruta "the Witch's Charm" Small.
Where to buy a Cimaruta